Introducing: RuneScan
After weeks of work, we're proud to release in early alpha the first phase of our new Thorchain explorer, RuneScan.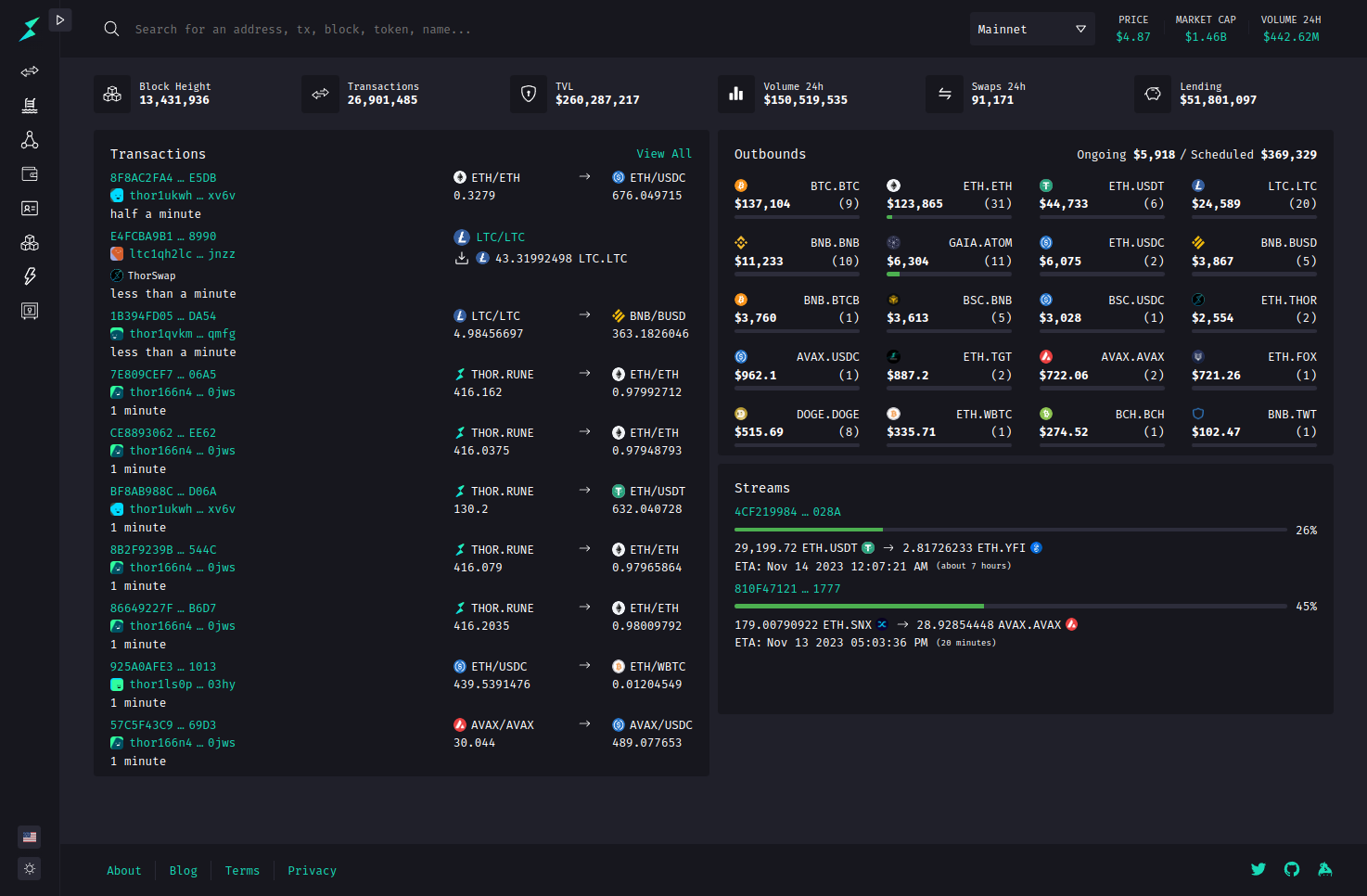 After weeks of work, we're proud to release in early alpha the first phase of our new Thorchain explorer, RuneScan.
With the growth of the network over the past 3 years and the latest features like savers, loans and streaming, it became apparent our previous deployment needed a full rewrite to support them fully and future ones more easily.
The first thing you'll notice is the streamlining of the transaction list, which should make it easier for anyone to understand what's going on, while at the same time abstracting in a better way transactions only devs would be interested in (like ones related to bifrost and vaults).
Transaction statuses are now fully explicit, and the ones that were in a false pending state should be a problem of the past.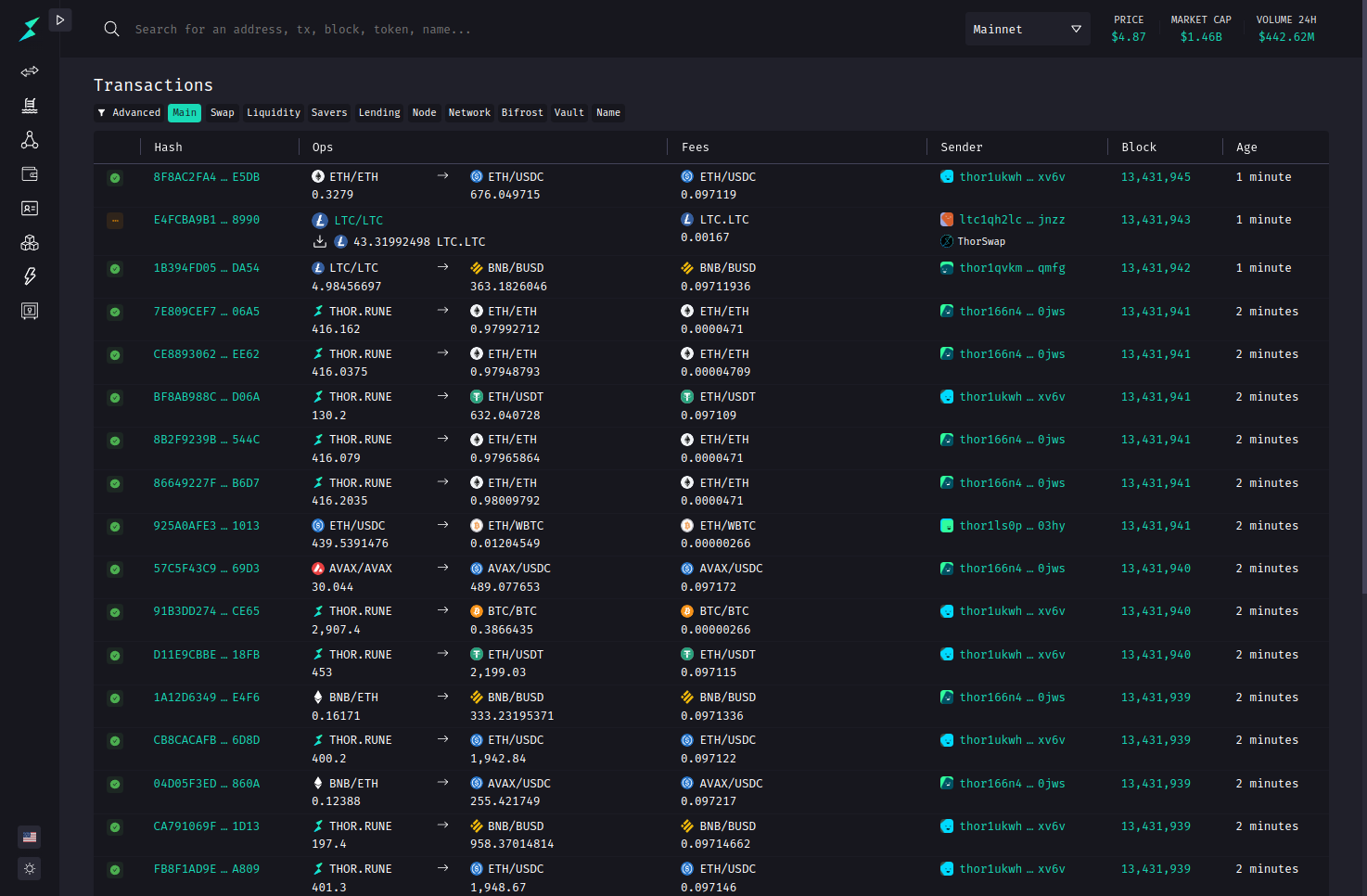 A new powerful tool that has been added to that list in order for you to fine-tune what you would like to look at. Want to see only the swaps from RUNE to Synth assets between November 7th and 16th? Here's the link and how you'd do it: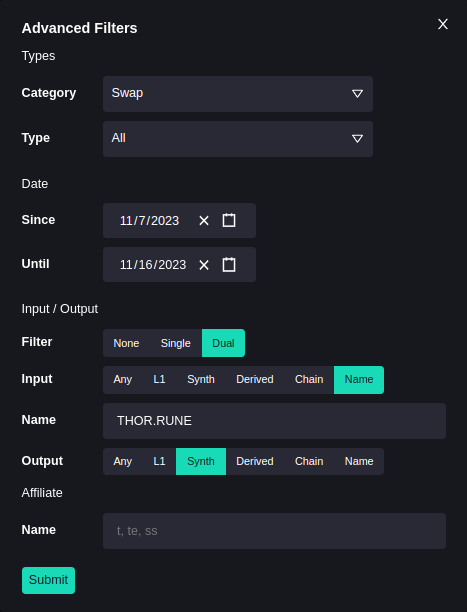 As you might have noticed from the two previous screenshots, our handling of affiliates also received an upgrade: you should now be able to search, filter and notice them on transactions. A few have a special branding like ThorSwap, Trust Wallet, AsgarDex and others, so don't hesitate to contact us to add yours!
Our new Names search page will allow you to find all registered ThorNames and their associated addresses, be careful though, not all chads are actually who they seem to be...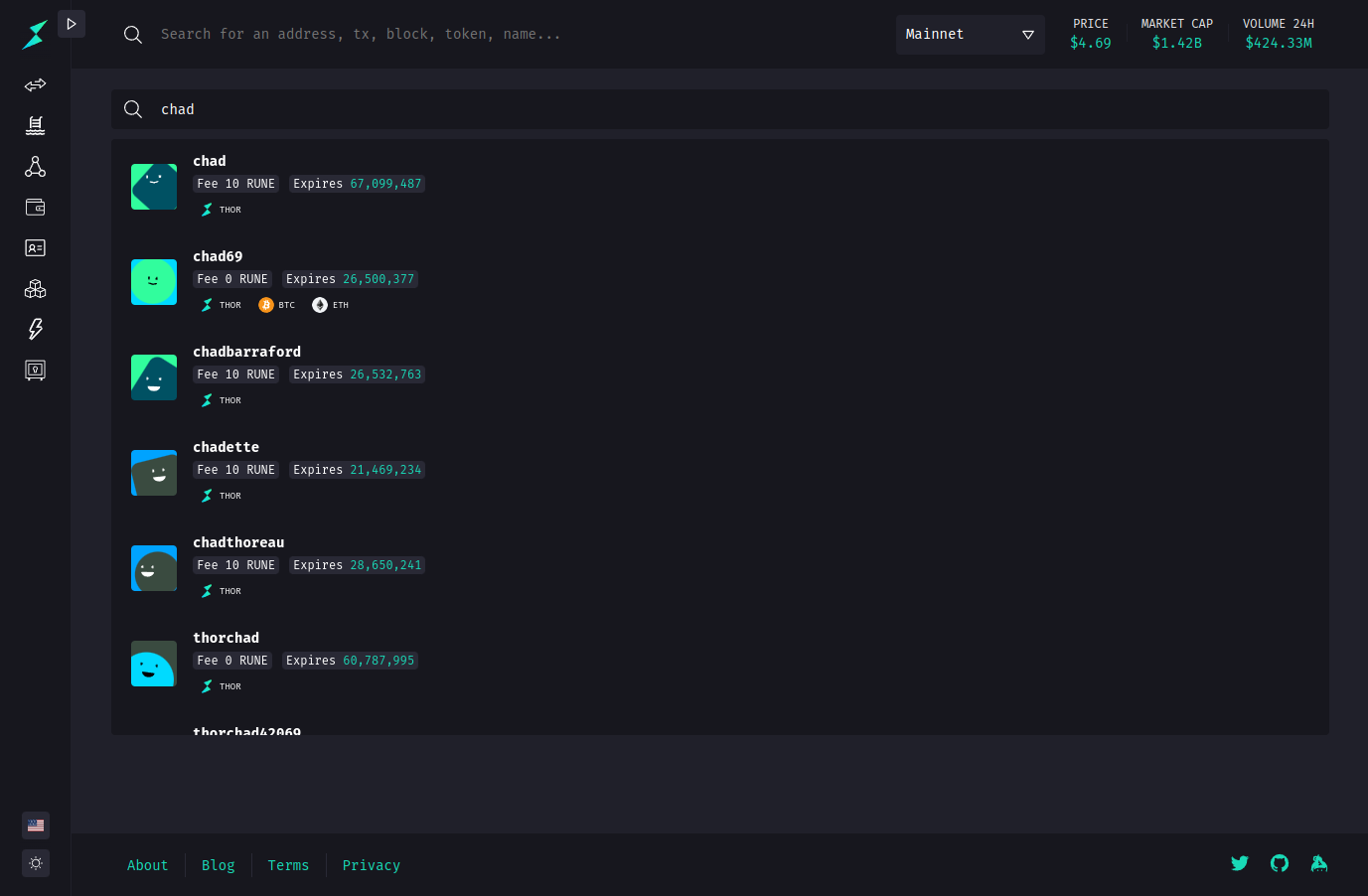 Affiliates are the perfect transition to talk about our transaction display, which might take a bit of getting used to, but is better in more than one way.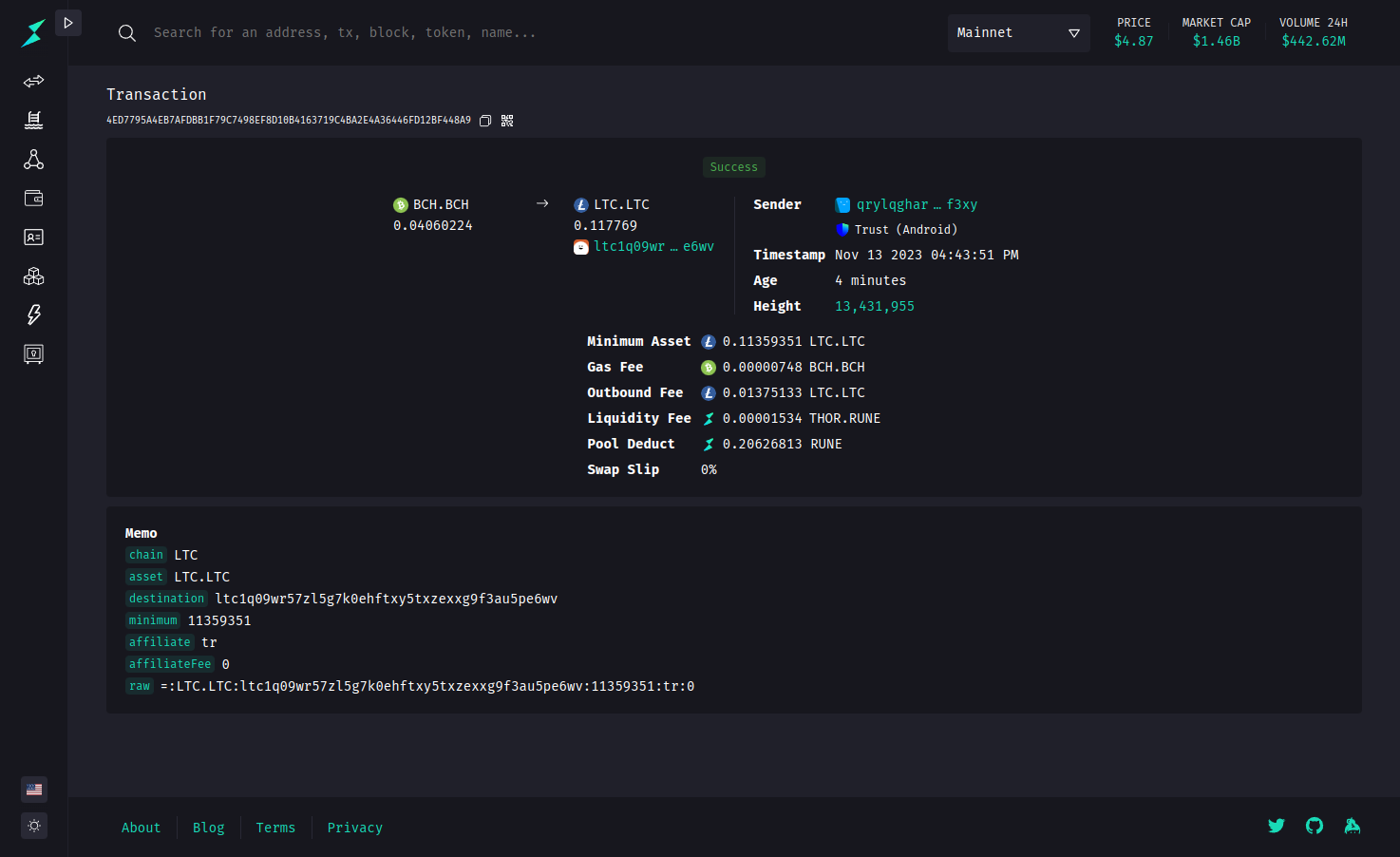 As you can see here, the address f3xy did a swap of 0.04 BCH to 0.1177 LTC with e6wv as the destination using Trust Wallet on Android, all the swap details and fees now clearly visible.
Transaction memos are also parsed and decoded for neophytes to understand them with ease, while allowing connoisseurs to play with their raw form.
---
Jumping into addresses the first thing to notice would be the addition of their own unique-ish avatar color-coded based on their inferred chain (eg: orange for BTC bech32 addresses, blue/green for THOR). Although not a signal you should stop double-checking your hashes when sending transactions, it should be a nice and quick way to identify known addresses.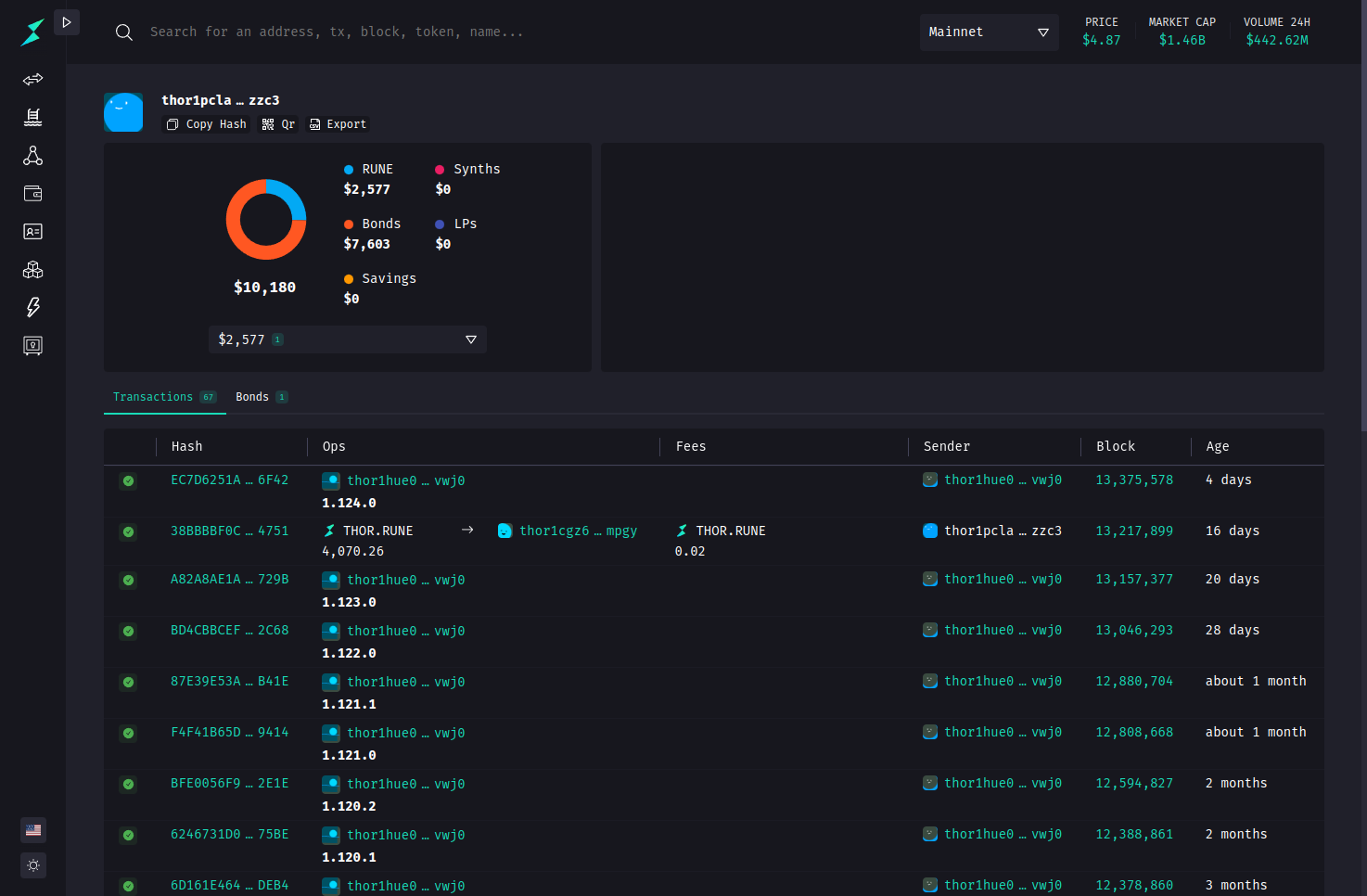 We now show 5 different categories of assets on Thorchain: RUNE, Synths, Bonds, LPs & Savings. Those combine into an easily accessible total value expressed in $USD in order for anyone to see it at a glance without doing their own calculation. This section will later be improved for L1 addresses which only did swaps in the second phase.
Tabs detailing savings, loans, bonds and LPs are obviously also accessible to drill down into those when they are present.
---
The nodes page also received its fair share of improvements with favorite selector version check indicating it's not the latest and aggregated statuses for all the daemons.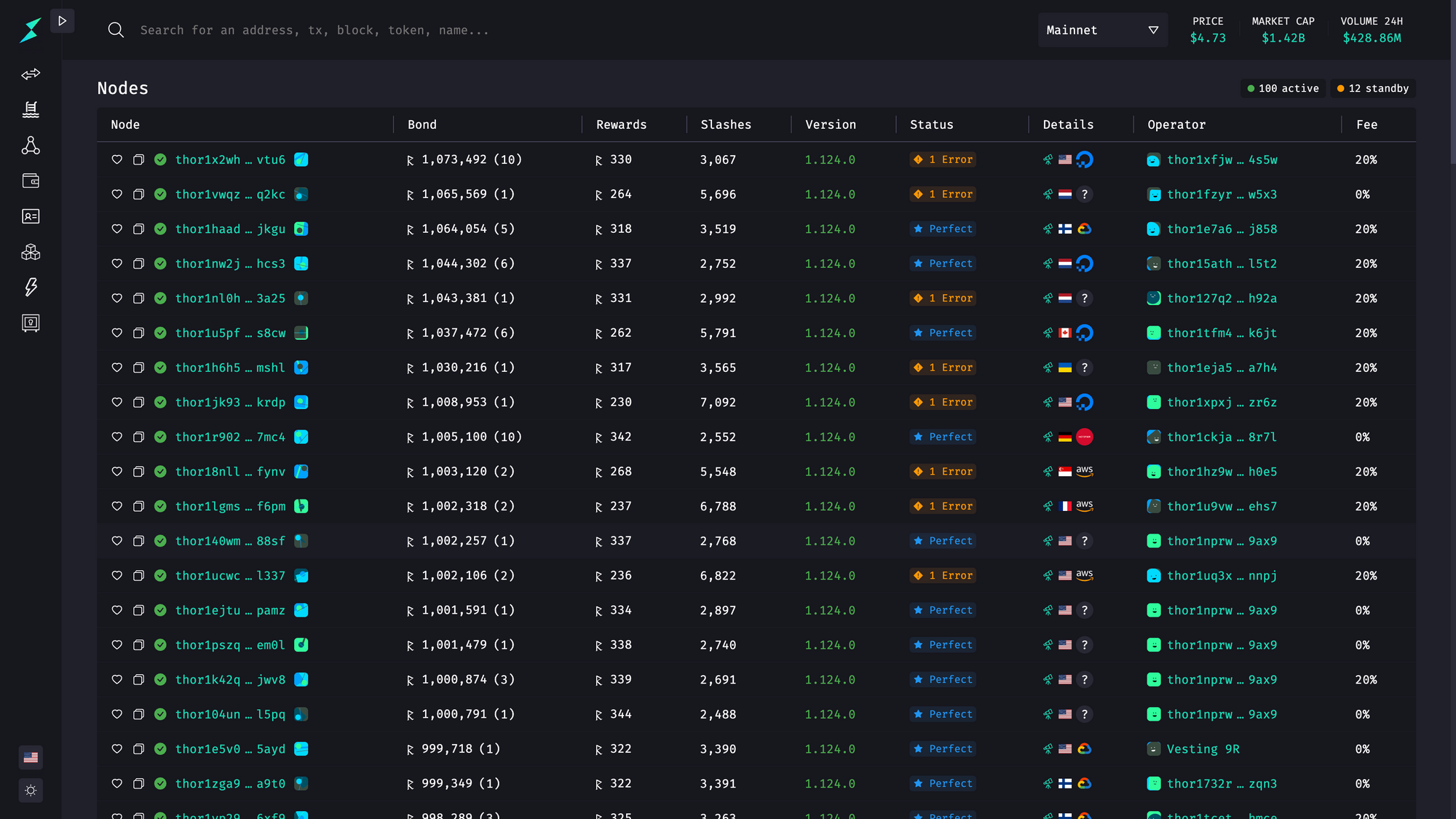 Nodes also get their own avatars which are then displayed for all bond, bifrost and node specific transactions, in addition to being shown on all blocks for proposer and signature debugging.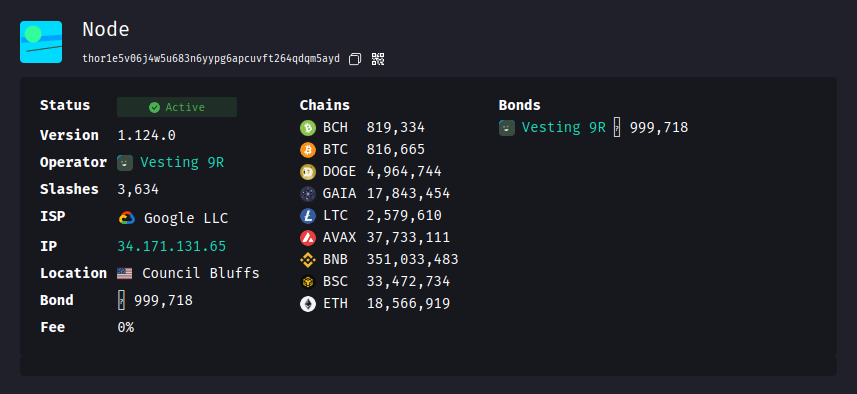 ---
Vaults now boast a streamlined transaction page which doesn't require you to select the chain of the transactions you want to look at, that you can still do by going on the addresses tab and selecting it.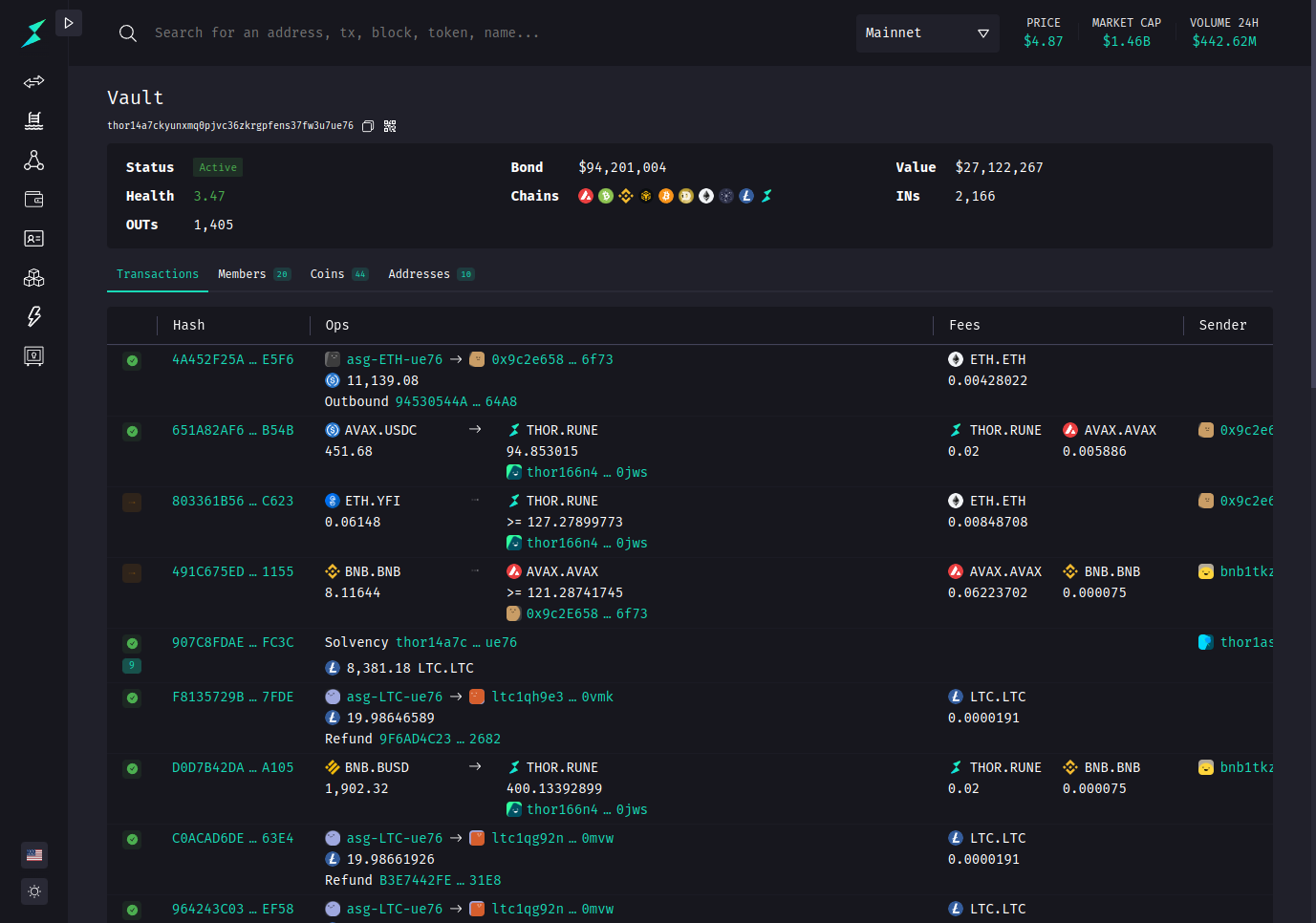 The coins tab also shows the $USD value of each asset, which compounds into the total vault value and matters to ensure it remains healthy based on its bonds members. The number 3.47 above indicates the bond value is more than 3 times the value of assets locked in that vault, which would make it quite unprofitable for any coalition of nodes to rug the funds.
---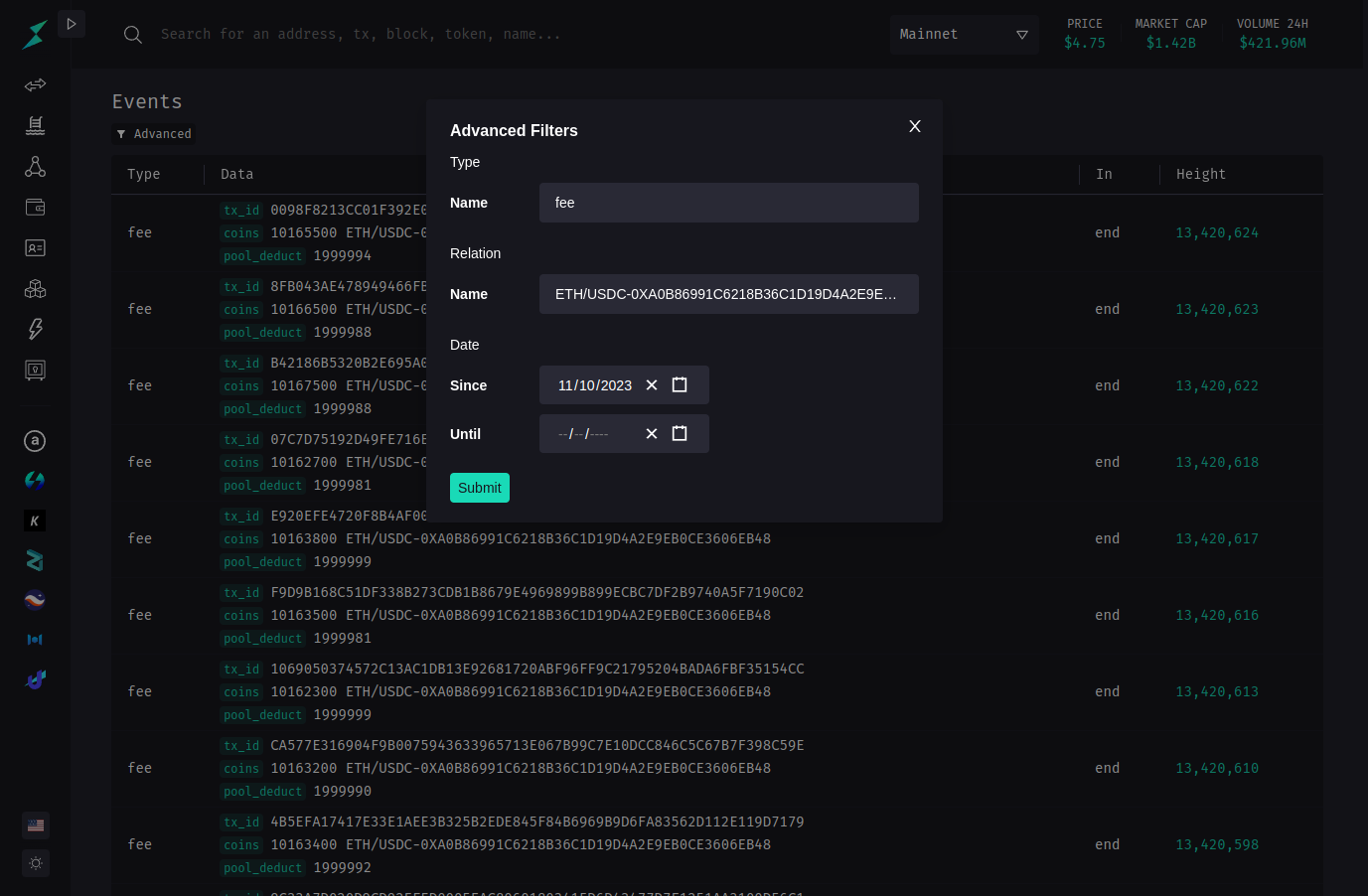 Advanced filters will too make an appearance in the shiny Events page, which should hopefully help our protocol devs in their daily investigatory tasks 🕵️
---
This release would not have been possible without our friends at 9R, namely Ursa, Orion, Pluto, FamiliarCow & Eridanus but also with the insane help from Multipartite and inputs from RuneTard, SamYap and every active user of the #viewblock channel in Thorchain's Discord!
That should be it for today, keep your eyes peeled for additional updates!