Introducing: StarkNet
Announcement of ViewBlock's StarkNet explorer with transaction & event decoding, token prime support & advanced statistics!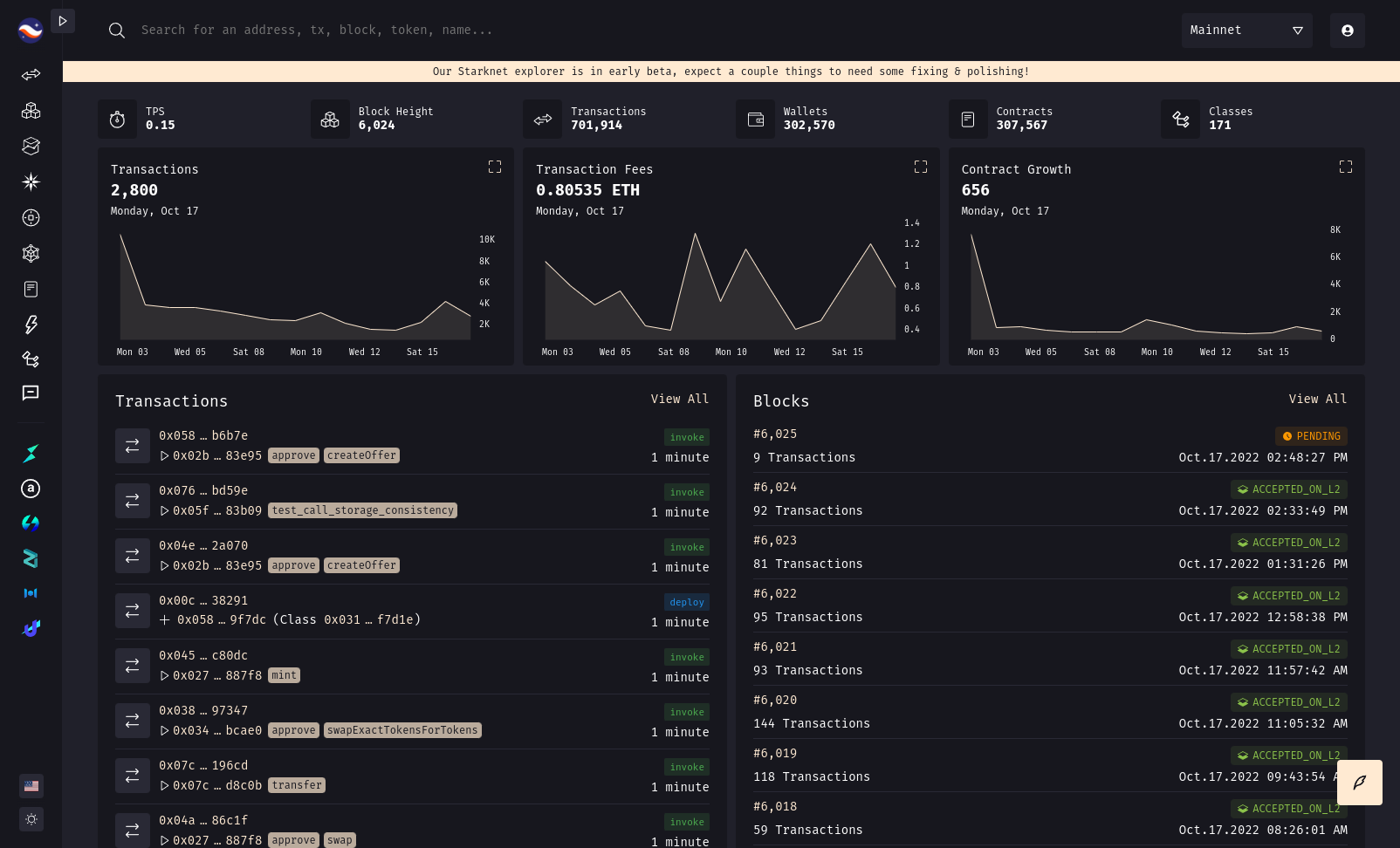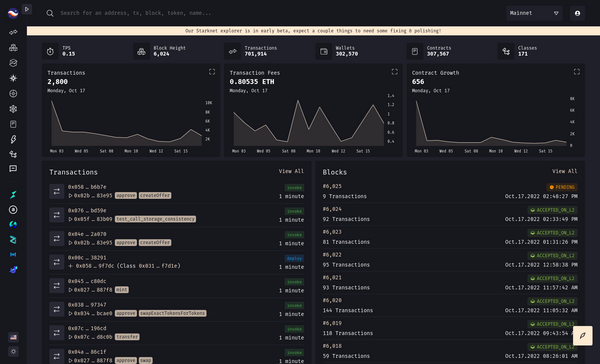 After weeks of hard work, we're very excited to announce our StarkNet explorer to the public.
In addition to supporting all the basics of the chain like viewing blocks, transactions, messages, events and classes, most transactions & events are properly decoded, including the not-so-recent ones. Every interaction to a contract will be displayed on their page, allowing our users to more easily see and understand state changes.
There's a couple more interesting features we would like to showcase, so let's dive right in!
---
First of all, anyone will now be able to quickly see the combined USD value of all the ERC20 tokens a contract owns in addition to their breakdown and ability to filter transactions for a particular token.
---
We also implemented advanced support for ERC721 and ERC1155 tokens. You will be able to browse the entire collection of those tokens and see any NFT a wallet is currently holding on its detail page!
Here's a quick example looking at the assets from @Aspect and @Pxls:
We chose not to cache any assets on a CDN to make sure they do not become centralized through those architecture choices. If some of your other assets take too much time or fail to load, it might be a warning sign that the health of the collection is not so great and that files should be re-pinned on IPFS for example.
---
Now regarding statistics, we have tons of metrics with different levels of granularity that you can now explore in order to see the activity of StarkNet, a project, coin, or specific contract!
The Top Stats page will allow you to gather leaderboard information of various categories from 3 time-frames of the StarkNet like who spent the most gas, who bridged the most assets or what type of contract was created the most.
The Statistics page on the other hand will display historical metrics over time: amount of transactions, wallet growth, average block time, cumulative bridge volume and many others which would be too long to list!
Every single one of those charts are able to be expanded in full screen to see more than just the last 15 days of data if you want to get a broader picture of that specific statistic evolution over time.
As we mentioned, all contracts also get their dedicated statistics, most notably their ETH and USD balances over time, but also transactions, transfer & bridge activity, and more to discover...
---
To celebrate our StarkNet launch, we also added internationalization for Hebrew, Finnish, Norwegian, Swedish & Icelandic bringing our total supported languages to 21 🎉
---
Lastly, if you'd like to partner with us in order to get better integration regarding your token price, special statistics for your project or anything else don't hesitate to contact us.
And that's a wrap, thanks for reading!